Another shock to Mamata Banerjee's Cabinet, Rajib Banerjee resigns as MLA
TMC leader Rajib Banerjee resigns as MLA-
Kolkata: West Bengal is set to hold assembly elections this year. On the one hand, the Bharatiya Janata Party (BJP) is trying to strengthen its position in the state. So many TMC leaders are leaving the party before the election.
Meanwhile, former minister Rajeev Banerjee has resigned from the post of MLA and a member of the Trinamool Congress party. Earlier, on January 22, Rajeev had resigned as Cabinet Minister who was the Minister of Forests in Mamata Banerjee's Cabinet.
Meanwhile, Union Home Minister Amit Shah is on a visit to West Bengal. Shah will pay a two-day visit to West Bengal on January 30 and 31. However, MLAs and leaders who have left the TMC, including Rajiv Banerjee, may join the BJP during Shah's visit. TMC leaders are in the process of resigning from the party ahead of the assembly elections.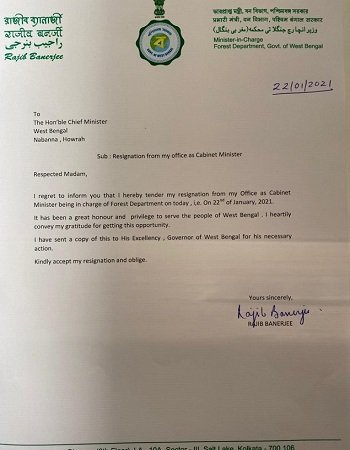 Many heavyweight leaders, including Shuvendu Adhikari, have already joined the BJP. The biggest challenge for the TMC in this is to unite its party leaders. Meanwhile, the BJP has been working hard to form a government in the state. The frequent visits of Heavyweight leaders like Amit Shah to Bengal indicate this.
Last month, a large number of TMC and other party legislators joined the BJP. Tapasi Mandal, Sudip Mukherjee, Saikat Panja, Ashok Dindal, Deepali Biswas, Shukra Munda, Shilbhadra Dutt, Sampad Mukherjee, Banashree Maiti, and Biswajit Kundu have left the party and joined the BJP।