Well-known Senior TV journalist and Famous anchor Rohit Sardana passed away
TV journalist and Famous anchor Rohit Sardana passed away
Famous news anchor Rohit Sardana has passed away due to the COVID-19 pandemic, Rohit Sardana, who was an anchor in Zee News for a long time, was working as an anchor in the Aaj Tak news channel. had long been associated with Zee Media. He used to host the popular show – 'Taal Thok Ke', as well, He had a heart attack on Friday morning, in which he died. He was also infected with the coronavirus. He was put on a ventilator after a heart attack, but could not be saved.
Senior journalist Sudhir Chaudhary tweeted, 'Just a little while ago, I got a call from Jitendra Sharma. Hearing what he said, my hands shuddered. There was news of the death of our friend and colleague Rohit Sardana. I had not imagined that this virus would pick someone up from so close to us. I was not ready for this. This is God's injustice…. Peace. '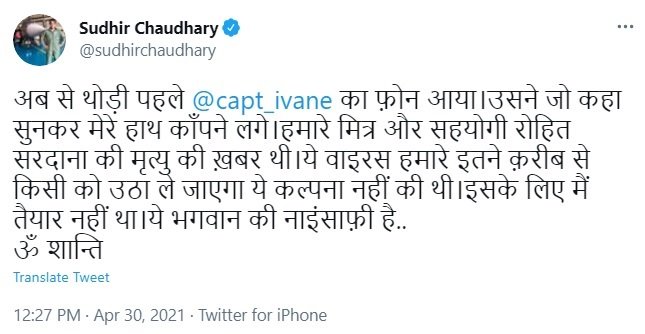 Remembering Rohit Sardana in another tweet, Rajdeep Sardesai wrote, 'Rohit had political differences between me, but we always enjoyed the debate. We did a show one night, which ended at 3 pm. At the end of it, he had said, "it just wonders and brings a lot of fun". He was an obsessive anchor journalist. May your soul rest in peace, Rohit Sardana. ' Apart from Sardesai, senior Congress leader Ghulam Nabi Azad has also paid tribute to Rohit Sardana.
Prime Minister Narendra Modi tweeted, 'Rohit Sardana left us very soon. Filled with energy, Rohit, who is eager for the progress of India, will be greatly missed. His untimely demise has left a huge void in the media world. Condolences to his family, friends, and fans. peace. '।